Packing a lunch for work every single day requires great commitment and organisation. Whether you're doing it to keep the costs down, to try and eat a healthier diet or because there's just slim pickings at your office, the truth is – it's not always easy to stay motivated.
There's no doubt that the benefits of bringing in your own home cooked food are plenty. You can save money on overpriced delis and cafés, be in control of your own portions, and eat something that is guaranteed not to disappoint your taste buds. With this in mind, we wanted to offer 10 top tips on how you can pack a healthy office lunch:
1. Put a stop to limp lettuce
Don't you just hate it when your good intentions of eating a healthy salad are sabotaged by limp and lifeless lettuce leaves at lunchtime? Leaving your chopped up salad in the fridge overnight, especially if you add dressing on top, can leave you with an unappetizing pile of slop the next day.
To prevent this, layer your salad into mason jars, putting the heaviest ingredients at the bottom (such as lentils, chickpeas, meat), then, adding your salad leaves on top. It's also a good idea to invest in some small salad dressing containers, in order to keep the dressing separate from the salad.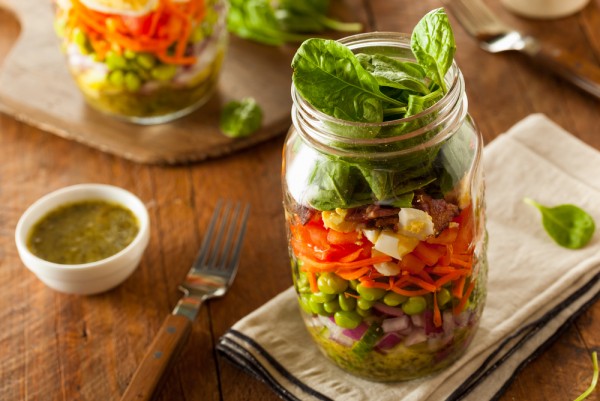 2. Batch it up
When cooking dinner from scratch, whether it's for a weeknight feast or a weekend treat, multiply your ingredients so you have plenty of leftovers. You can divide these leftovers into Tupperware boxes and portion it out for lunch throughout the week.
Make sure to check how long the meal can be kept in the fridge for until it spoils, most food items can be put in the freezer and can last for weeks, even months.
3. Say goodbye to soggy sandwiches
When you hastily unwrap the foil from your lunchtime meal, only to reveal a soggy sandwich, it is a very sad state of affairs indeed. However, there's a very simple technique to fix this problem, ensuring you will never eat another soggy sandwich again:
When layering your sandwich, use your preferred deli meat or cheese to act as a barrier between your bread and condiment. For example, spread mayonnaise on a slice of ham and lay down the dry side of the ham so it's facing the bread. It's also a good idea to place chopped tomatoes, pickles or any drippy vegetables on kitchen roll to absorb some of the moisture before putting them in your sandwich.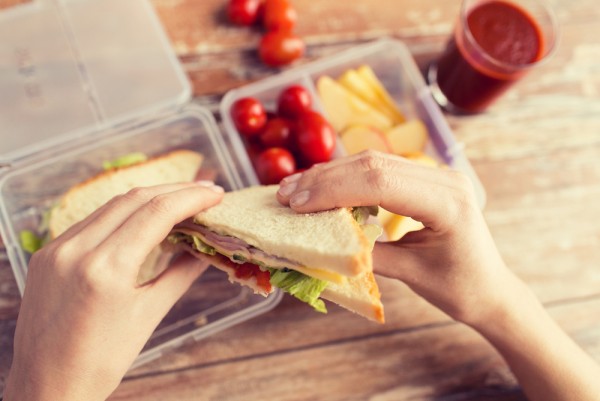 4. Variety is the spice of life
So, you've established a quick and efficient way to make 20 batches of lasagne – excellent! Do you really want to be eating this for the next two weeks, though? If you eat the same thing every day you might find yourself feeling put off by it, so you need to give yourself options.
Mix it up and keep things interesting by having a different lunch at least every other day. You can do this by cooking several batches of different dishes, putting them in the freezer, and rotating them between fresh and frozen meals
5. Fail to prepare or prepare to fail
By no means should you waste an entire Sunday prepping your heart out, however, it can't hurt to put a few hours aside here and there to dedicate to some prearranged meal prepping time.
Just think of the extra 15 minutes you can have in bed, knowing all you have to do in the morning is grab one of the batches you made a few days prior and your lunch is sorted.
6. Waste not, want not
Are there times when your eyes are bigger than your belly and you can't finish your evening meal?
You might be tempted to discard your leftovers, thinking there isn't enough for a full portion – but you shouldn't! You can save what is left on your plate and pair it with other foods to make a full meal, such as pasta and salad or meat in a sandwich. This makes for a very cost-effective and environmentally friendly approach to lunch.
7. Be prepared
If you plan on regularly eating in the office, make sure you don't leave out any basic condiments you would usually add to your meals at home. Just a little bit of salt or hot sauce can make a dish all the more tasty.
It's also a good idea to bring some napkins along with you to put in your desk drawer, as well as plastic cutlery (if needed) and a flask of water you can refill in the office kitchen, free of charge.
8. No fridge, no problem
If your office lacks a big enough fridge to cater for everyone's food, or there isn't one provided at all, don't let this put you off.
There are a wide variety of options available for storing your food so it is kept cool through the day. This includes coolers, ice boxes and picnic bags with thermal lining. These come in a range of different shapes, sizes, and prices.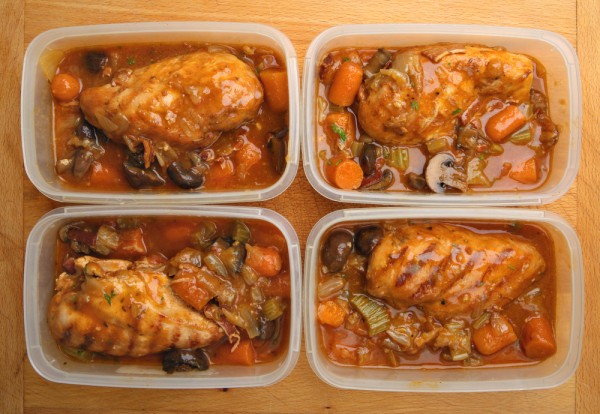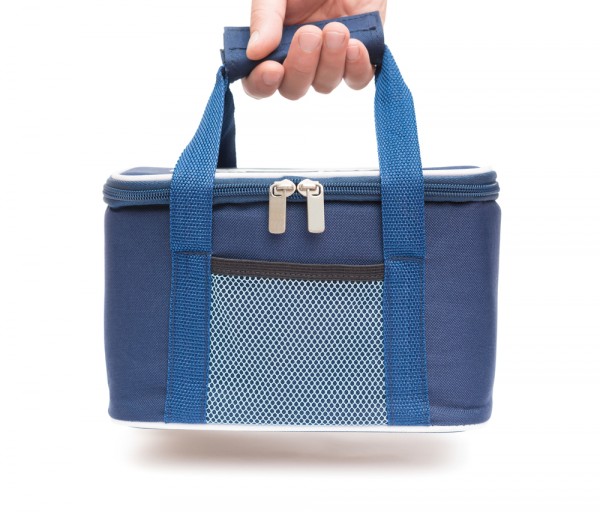 9. Forget me not
There's nothing more frustrating than getting to work and realising you've left your lunch at home – again!
A good idea to combat your forgetfulness is to leave little post-it notes for yourself. This way, you'll be reminded to take your packed lunch with your before you leave the house. Placing these notes on the fridge or front door should ensure you see them. Alternatively, set an alarm on your phone to act as a reminder to take your lunch with you.
10. Beware of fridge thieves
!
It can happen in any office: someone comes across that delicious salted beef sandwich you've been craving all morning and seizes the opportunity to steal it for themselves.
If writing your name on your lunch box or bag doesn't do the trick in deterring food thieves, then it might be worth investing in lockable Tupperware. It comes in a range of sizes, is reasonably affordable, and promises to keep your food safe from any lurking vultures.
What are your tips for making healthy packed lunches? Let us know on Twitter @viking_chat.