Travelling for work can take large chunks out of your day as you travel to see colleagues, clients or contractors. In the past, this may have left you virtually unreachable as you passed through tunnels and remained out of reach of a landline. Today however, progression in communicative technology means that you can be as in involved in the workplace on a train as you would be at your desk.
All you need to do to optimise your travel time is to follow these handy hints.
Get a Reliable Internet Connection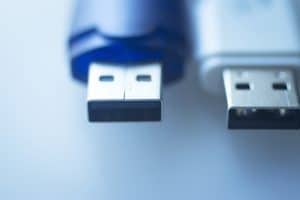 One of the remaining issues with trying to work whilst travelling is the quality and security of a public Wi-Fi connection. Trains are notorious for poor internet facilities, unless you are willing to opt for a paid-for service. A useful alternative is a dongle.
Dongles are similar in appearance to a USB stick and are slotted into your laptop or other device. Once inserted they act like a small modem, connecting to 3G or 4G signal in the same way your mobile phone does. This gives you access to the internet on the move, without having to rely on patchy public internet connections.
Be aware that as dongles run on 3G and 4G signal, they may still cut out from time to time if you enter areas with bad signal.
Pack your Chargers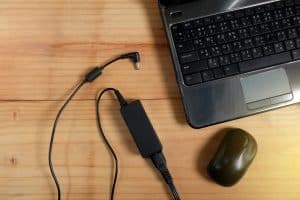 We've all had this nightmare scenario: You get on to a train, open your laptop and within 15 minutes it's flashing telling you it has low battery. Avoid this by plugging in all the devices you'll need for a full night's charge before you set off on your journey.
Of course, a number of devices will not last a full day on one charge alone, so pack all necessary cables in your laptop bag to allow recharges when they are needed. If you have access to one, bring along a battery pack as these can be plugged into your device without the need for any mains electricity, but be sure to check these are fully charged before setting off.
Plan Ahead
Of course, to be able to use charging cables, you will need to have access to mains electricity. One way to be sure of this is booking ahead. Train and plane booking facilities will allow you to request proximity to a plug if necessary. The earlier you book, the more likely it is that the company will be able to fulfil the requests that you make.
Other requests can also be made when booking your tickets that will make your journey easier. Consider booking a table seat, which will give you more space to work. A quiet coach can also be a good choice for a working journey as there are likely to be far less distractions in these spaces.
Concentrate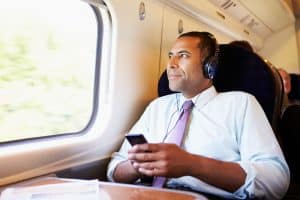 Working on the move can be both good and bad for your concentration levels. On the one hand, being away from colleagues and office phone calls means that you can focus on one project without being side tracked by ad-hoc problems. On the other hand, it is easy to get distracted by what is going on around you, window watching or interacting with fellow passengers.
There are a number of ways to help your concentration, however, which should boost your productivity. One easy fix if you find yourself getting distracted by the noise of your carriage is to take headphones with you. Build up a playlist of music which helps you stay focused as your work. If you find yourself drawn to window watching, pull the blinds across the window, if available, to block the view for some sections of your journey.
Protect yourself
Working on the move does offer some risk in terms of data protection. Be extra vigilant when working on public transport to ensure you are adhering to all laws and guidance on protecting information about you, your company and your clients.
One key way of doing this is making sure all devices that you travel with are encrypted and password protected. This will prevent anyone from being able to access information you have saved on these devices should they fall into the wrong hands.
Try to limit the amount of paper documents that you have with you when travelling. Printed information is easy for people to view and cannot be protected to the same extent as digital data. Try not to take any printed personal or confidential data with you whilst travelling.
Plan the work you will be doing on your trip to limit the amount of personal and confidential data that will need to be accessed, further lessening the chance that anyone will be able to access anything that could be used to identify a colleague or client.
Be careful what you talk about on the train. Even if you are discussing plans with colleagues, be aware of who else could be travelling near you and potentially overhearing confidential data about clients, pitches and sales.
Set out your Tasks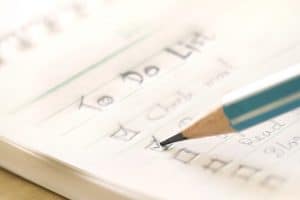 The day before making your trip, write a list of tasks you plan to complete which will be achievable in line with the guidance above. Make sure you have all information and documents needed to complete these tasks (appropriately protected using the advice above) before you leave the office.
Train journeys can be great opportunities to catch up on emails, as you are free from the regular interruptions that come along with office work.
Other activities that require concentration but often fall to the bottom of the priority list, like proof reading and general administrative work are also great train tasks.
Do you have great tips for working on the move? Let us know on Twitter @viking_chat.