School stationery essentials
Kids like to show their personality with their pencil case, so let them choose something fun like this funky owl or monster design. Whatever they pick, just make sure there's enough space for all the essential back-to-school stationery.
Pens will be lent to friends and never returned, used to scribble and doodle, lost in the dinner hall, and broken during playground antics. You can't expect kids to make one pen last, so avoid anything expensive. You need bulk packs of biros that are easy to use.
Check whether there are any colour requirements (some schools only allow black ink), and then go for ballpoints. Our top picks are the low-priced 50 packs of Niceday and Bic Cristal pens.
The classic Staedtler HB, complete with eraser tip, will be the best bet for pencils. This pack of 12 should be ample for the school year, as long as you invest in a good-quality sharpener.
Also make sure they have a 15cm ruler. If they need a 30cm ruler, go for a shatterproof or flexible design, so it doesn't get broken in their school bag. The final pick is a set of highlighter pens – Stabilo Boss are renowned for quality, but there are other great brands available too.
Art equipment
Art equipment will come in handy whether they're colouring maps in geography or making posters in English. Coloured pencils are often the best option, as they're easy to use, last the long-term and come in a wide range of colours. Check with the school before kitting the kids out with felt-tip pens.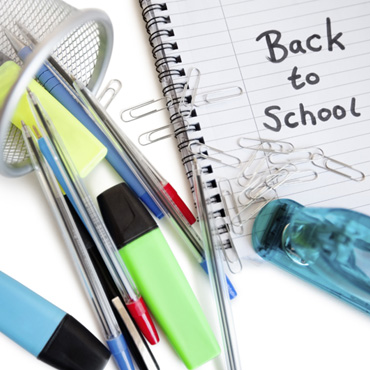 Maths equipment
Whether your kids need a pocket or scientific calculator, look out for two-way power. These use solar energy to save you buying batteries, but have a backup to ensure there's no power outage during important tests. A hard cover will also come in handy, helping to prevent damage.
Make sure to write your child's name on the back, so it doesn't get mixed up with the school's or classmates' calculators. A fine permanent marker, like this Foray pen, should do the trick.
Other maths essentials include a compass and protractor. The traditional Helix maths set includes these items, as well as extras such as set squares and an eraser.
Back to school uniform
The kids have grown and last year's uniform looks tatty, so it's a good idea to deck them out in new gear. You'll of course have to visit the official supplier for any uniform with school logos, but you can pick up most of the must-haves online or on the high street.
How many sets you need depends on how often you do laundry, but it's generally recommended that you have at least three bottoms, five tops, one jumper or blazer, and a pair of durable shoes. Don't forget that they'll also need a PE kit, complete with pumps, trainers and football boots if necessary.
Use a laundry marker to label every item with your child's name, so nothing gets lost or mixed up.
We hope that our buying guide has made your back-to-school shopping a breeze! Leave a comment below if you have any other tips for parents this August/September.