Milo allows young children the opportunity to be able to interact with absent loved ones who may be abroad. 24 tokens are hidden around the home or within the child's bedroom. Every so often a clue appears on Milo's face which helps to reveal the location of a token. Once the token is found and placed in the base station a video message will appear. A video message can then be recorded via Milo and sent back to the loved one.
We chatted to Hannah about her success over the last six months and how the product is developing.
How did you find the transition of turning your university project into a business venture?
It's quite a daunting experience given that I only really have experience from University. Entering the real world with a new business venture is a bit of a risk and a leap into the unknown, so you have to really believe and have faith in what you're doing. However, that also makes it really exciting and I believe in Milo and, more importantly, the benefits it could give families and that's what's going to keep driving me forwards.
Did it require investors and a significant change in strategy?
It absolutely requires a change in strategy. My Business Mentor keeps telling me I need to make the transition from designer and inventor to business woman, but in honesty I don't really know how to do that! It's a balance between creating the perfect product that delivers the benefits you want and creating a product that you can actually get to market as a start-up company.
There's a lot more to think about when you take a conceptual idea to the real world and one of the biggest barriers to that is funding. There's a lot of stress involved with sourcing the necessary funding and writing business plans that help sell your case but it's all a big learning curve.
How did it change you?
It's still early on in the process but I think I'm learning to be a bit more open to change and consider a much wider view of the whole situation. I used to think as a designer it was just a game of constantly spinning plates but now there's a whole new set to worry about!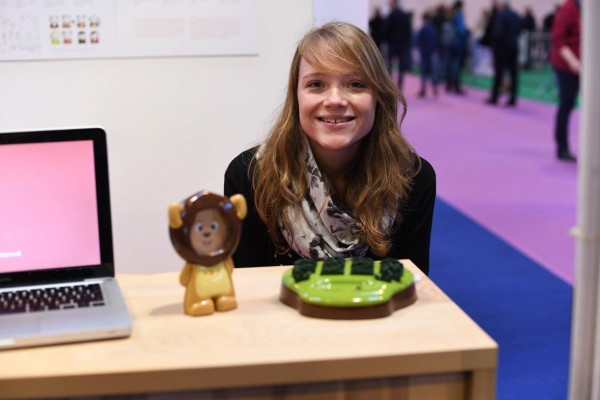 How did it feel to receive a 'Highly Commended' award at the Gadget Show Live?
Receiving the 'Highly Commended' Award at the Gadget Show Live was really amazing. It was such a shock at the time to have been selected out of the group of 20 brilliant British Inventors. Many of their projects are further developed than Milo who is still really at a conceptual stage.
I remember listening to the awards not really expecting to be anything more than a spectator and then they called Milo out and I just sat there for a minute thinking 'Oh that's nice' and then it dawned on me that it was me! It's just lovely that people really believe in Milo and can see it having a place in the market one day.
What did you get from the experience?
The show was a fantastic and totally hectic experience. It was four non-stop days of talking about Milo, making new contacts and receiving new ideas from all sorts of people – from Mum's and family's to tradespeople, manufacturers, and journalists. I have such a huge long list of things to do following up on the show, but I also have a wider list of supporters and new contacts who can help out.
It was a really positive experience that has helped keep me focussed on getting Milo to the shelves. We met so many families over the few days who loved the idea and some parents who were currently experiencing a situation where they really felt Milo could make a difference.
What's next for Milo?
To help get Milo to market I'm working on a new phasing strategy starting with a slightly different Milo than the one you may be used to seeing. This version will only be the starting point but it will help get the business off the ground, making money, and ready to invest in Version 2. It will have the same benefits and will help keep families in touch in a way that's engaging and fun for little ones.
I'm currently buried in writing business plans and technical specifications that I can use to get started on making a functional version of Milo. I can test this out with users and get some opinions to help improve the design and show potential investors how many people seem to love Milo.
I've also entered this year's Virgin Media Business VOOM Competition with great prizes up for grabs including funding, business support, and a chance to pitch to Richard Branson himself! To take a look at my Milo Pitch check out the following website:
https://www.vmbvoom.com/pitches/milo-1
If you want to support Milo then please vote, it's just one simple click but every vote really counts and could make such a difference for Milo! We need to stay in the top 80 by the closing date of May 23rd to be in with a chance of competing in Round 2 – a 29 hour, Guinness World Record Attempt 'Pitchathon'.