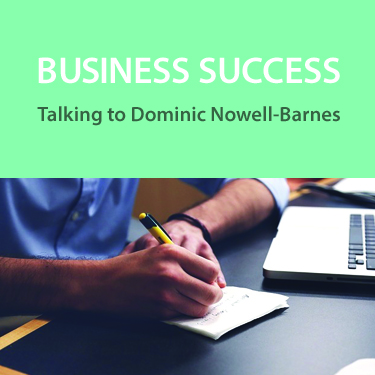 This
month we're talking to entrepreneur Dominic Nowell-Barnes, who entered into the
world of business as a teenager. By 25, his flooring business, Poshflooring.co.uk,
had turned over £4 million. He tells us about his highlights and organisation
know-how.
What's your company story in a nutshell?
At 13 years old, I had the desire for
material things but didn't have the money to buy them. I was lucky enough to be
in the first generation of teenagers that had easy access to the internet and I
discovered eBay. That was my first taste of buying and selling online.
A family friend was a wood floor
wholesaler, supplying some of the biggest retail stores in the UK. It was over
a family dinner he mentioned he had a number of pallets he needed to be sold
quickly. As each pallet sold, I saved the money, and after six months of
working seven days a week, I had enough money saved to source a continued
supply.
How do you plan your day?

I reaffirm my business plans and goals, I ensure
the team are supported and then prioritise my own tasks. I try and stick to my
Outlook calendar for time-keeping and always reserve time for my personal
development.

Describe your workspace
Relatively tidy! I tend to work from one
notepad and my phone, so there is very little paperwork to cause a mess.
Working on my Mac, I tend to focus on one
task at a time. I'll complete it and then move on, keeping my emails minimised
and setting times during the day to catch up. Having a clear focus works well
for me and keeps me on track to achieve the bigger goals.

Facebook COO, Sheryl Sandberg, rips out notebook pages
once a topic has been covered in her meetings. How do you hold a productive
meeting?
I bring my phone and a notepad, take clear
notes and actions from the meeting and ensure everyone understands their
actions and any deadlines associated with them. Always keep your meetings
focused and stick to an agenda.

Tea or coffee?
Tea and milk. No sugar!
Which stationery item could you not live without?
A good pen and a small pad. You never know
when, where or who you will be talking to when your next great idea hits.
What is the best thing that your business success has
allowed you to do or have?
I'm still young, and my ambitions are huge.
I want to be able to have a great lifestyle and enjoy coming to work every day.

Which office habit can you not stand?
Chewing pen lids and pencils!
What has been your proudest career moment, so far?
We have a clear goal and we will achieve
it, which is why I am confident my proudest moment is still to come.
We're coming to the end of our third year
of trading as an Ltd company. When I started selling wood flooring on eBay
years ago in a back bedroom, I never thought I would be able to grow to a £3 million-per-year
business.
I now have a team working with me – sales,
marketing and finance, as well as stock in
warehouses in several locations across the UK.
What advice would you give to people starting their own
business?
It always frustrates me when I read
successful people offering advice about how to start businesses. They say "expect
to live, sleep, and eat your business idea; to work sixteen to twenty hour days
in order to succeed". I fully agree that you need to be determined and willing
to work hard, but in order to succeed you need a balance.
Set goals every month, but make sure they
aren't just financial goals. In my experience it works best to have five
headers: business, health, relationships, mindset and things you want. Almost
any goal you can think of falls within these categories.
Set goals in all areas, long and short
term. Then set realistic deadlines. With balanced goals you will not only be
motivated each day but it means you are achieving in all aspects of your life.
How do you switch off?
By spending time with my family and
friends, going to the gym or taking a run in the park.
What are you most looking forward to, professionally, in
the future?
Becoming the number one UK wood flooring
supplier, as well as all the marketing, financial and logistical challenges
that getting there will offer me and my team.
What's your secret to success?
Focus.
To hear more about Dominic's company, head here. Do you have your
own secret to business success? Tell us at @VikingDirect