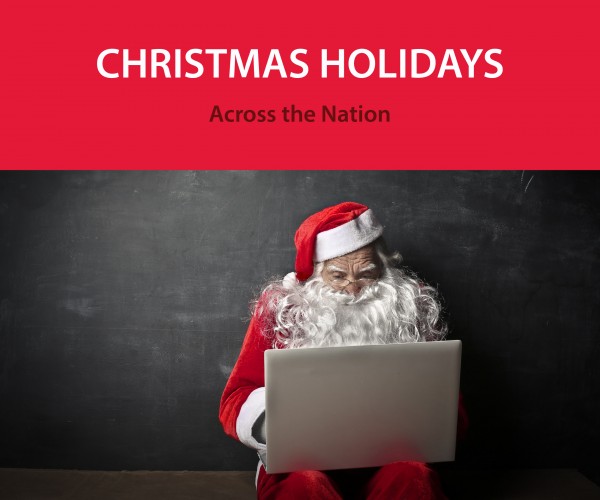 Christmas is traditionally a time of goodwill, sharing and caring. When it comes to taking time off work for the festive period, however, this isn't always the case. We recently conducted a study into annual leave over Christmas in Irish offices and found some surprising results.
The most startling statistic we found in our study was that a quarter of office workers were unable to book off the amount of Christmas holidays that they would have liked to, spelling disappointment for thousands across the nation.
The biggest issues that stopped workers from being able to get the leave they wanted were:
Employers putting pressure on workers to be in work over Christmas
Too many co-workers already having booked their holidays
Another factor that held workers back from taking the time they needed off from work was an excessive workload. This suggests that a lot of workplaces either struggle or cannot shut down fully at Christmas. Some businesses require several people to be in work at all times, meaning there will always be a few unlucky employees. Couple this statistic with the finding that stress was the fourth biggest barrier for workers taking holiday, and it begins to appear that employers might need to do more to reduce pressure and minimise workloads during the festive period.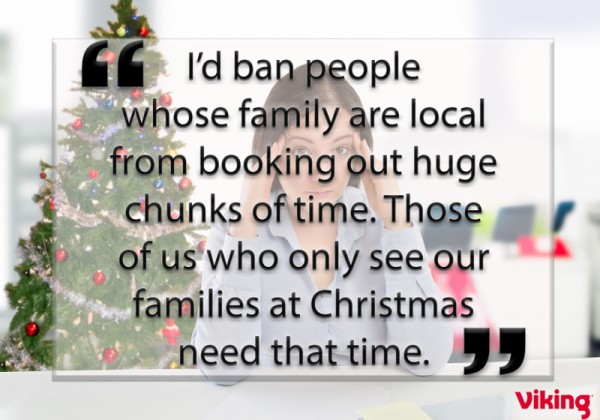 As if to echo this sentiment, a third of respondents said that they would change their workplace's Christmas holiday allocation process if they could. Many of the respondents felt that the current system was unfair, with certain people receiving priority over others. Co-workers with children received a lot of flak from those that felt they received preference, with one reply reading: "parents seem to get priority over people without children – as if we don't have lives ourselves!"
Managers also appeared to be prioritised over their colleagues, as another respondent noted: "it's unfair because managers in my office get to pick their Christmas holiday dates before anyone else." This might not be an isolated sentiment, either, as the survey found that 39% of Irish office workers believe that there may be an unfair bias in their workplace, with those in higher up positions receiving preferential treatment.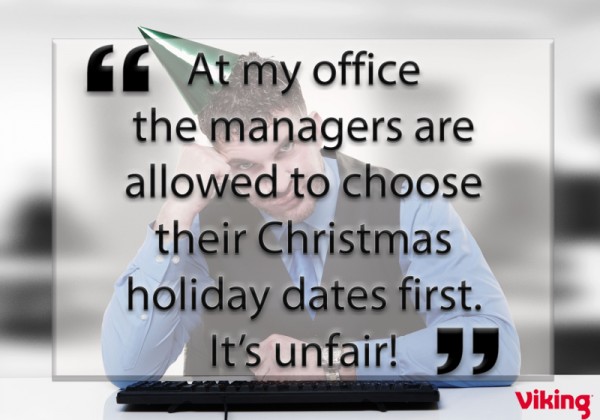 Ruud Linders, Marketing Manager Europe at Viking, said: "It's obviously important that each worker receives the time they need to see their family come the holiday season. While not everything may work out, offices need to have a fair system in place so that their workforce can submit their holiday requests as early as possible. The more time they and management have to work around potential problems, the better the employee will feel."
Balancing the requests of a large workforce can be very difficult, with many needing time for travel in order to see relatives, to take care of kids or to keep long-term arrangements they have made with others. To try and make sure everyone receives the time they need, we asked two HR professionals, Donna Obstfeld and Charlotte Sweeney, what they would recommend to help keep employees happy over Christmas.
Donna Obstfeld (FCIPD), Managing Director of DOHR, said that the increased diversity in the workplace may give an opportunity for organised cover over certain holiday periods:
"With the increase in workers of different religions, some businesses will allow those of the Christian faith to take time off at Christmas and their non-Christian colleagues to provide the cover. This is often a reciprocal arrangement for Jewish New Year or Eid for example. Rather than policy, this is usually an unofficial practice but does allow staff to get time off when they need it."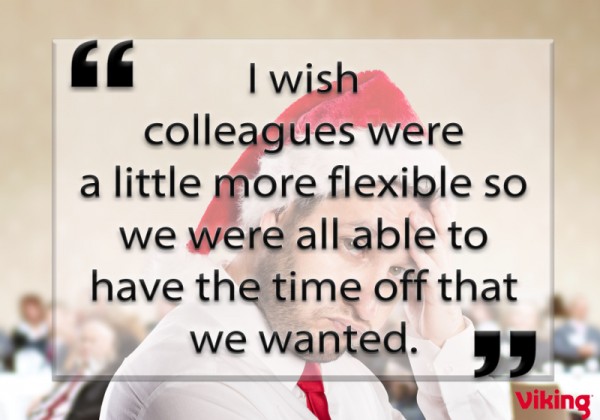 Charlotte Sweeney, Strategic Diversity & Inclusion Expert at Charlotte Sweeney Associates, offered actions for employers and managers to try, in order to ensure time planning for holiday allocations is as smooth as possible:
Encourage employees who work together and cover each other's roles to discuss how they could share the holidays out, so that as many people as possible get some time off during the Christmas break. This will increase their engagement in the process, as you are giving them the responsibility to come up with the solution.
Not everyone will get the time off that they want – if they don't this year could you commit to them being a priority employee when it comes to booking time off the following year? This will increase the level of fairness in the process.
You may have people from different religions in your team / workplace who are happy to work over the Christmas period. Could you discuss and agree on them working over Christmas and commit to giving them time off when there is an important religious or national holiday in their calendar?
We hope you managed to get a little time off this year. Merry Christmas from all at Viking!