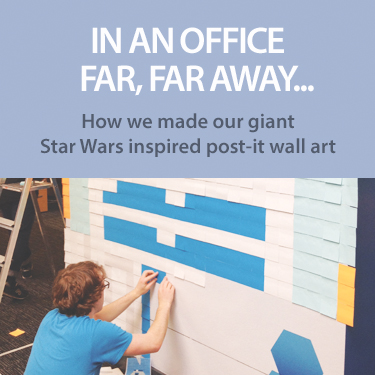 Recently we let a small team loose in the office with a big
stack of post-it notes and an imagination brimming with anticipation for the
upcoming Star Wars film.
We have quite a lot of free wall space here at Viking and regularly give different teams the opportunity to spruce them up. This time, however, the team decided to take a few photos and make a video of the process! After having been inspired by Ben Brucker's superhero murals, the team decided to create their own post-it wall art.
Take a look below and see how our team created Star Wars inspired
wall murals out of post-it notes…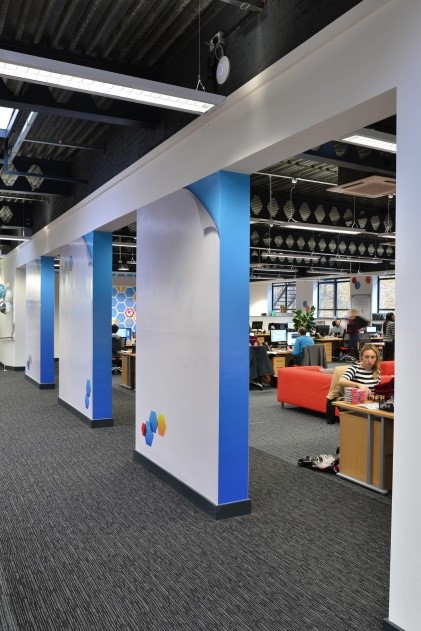 Stage one: Planning
These three columns and an adjacent wall were the target of
our team's artistic efforts. The first step of the process was to measure each
individual 'canvas'.
Each individual post-it note is 3×3 inches (76.2mm x 76.2mm)
and, since it was a round number, we decided to work in inches for the entirety
of the project.
We then set about calculating just how many post-it notes
we'd need for each mural. This was pretty simple – basically you just divide
the area in inches by the area of a post-it note (9″). So, for example, one of
our columns was roughly 100×75″ – giving us a total area of 7,425″. This figure,
when divided by 9″, gave us a total post-it note count of 825. We calculated
that this meant rows of 25 notes and columns of 33 note.
Stage Two:
Preparation
From these calculations we could draw up grids on which we
could design the characters. Initially we drew up drafts of lots of different
characters and had hoped to simply pick our favourites but, in the end, we had
to choose the characters with the most available colourways.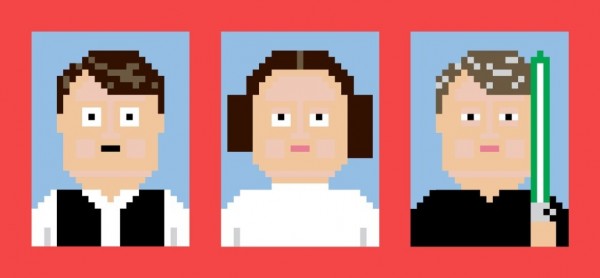 The finished designs looked like the image below, and made perfect scale representations of the intended finished
product.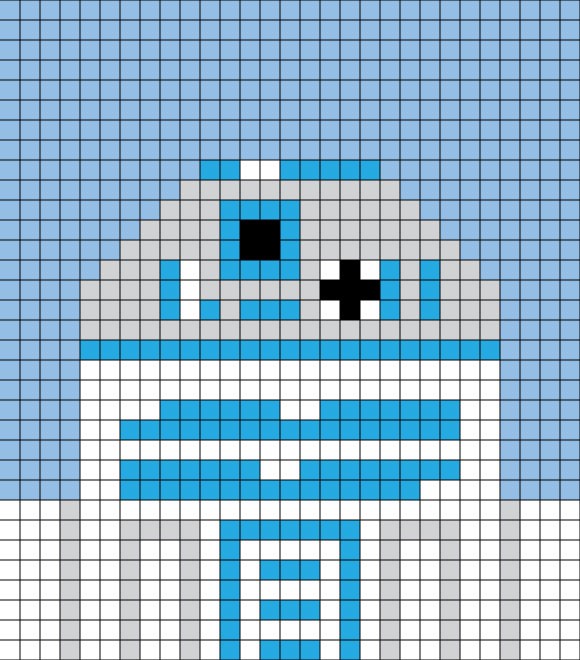 Once we'd got our four final designs together and amassed
the post-it notes we'd need, we could set about actually creating the murals.
Stage Three: Creation
Now it was time to get
sticking! Before we even opened a packet of post-its we had to mark off a series
of guidelines on the walls to ensure we kept our designs straight and lined up.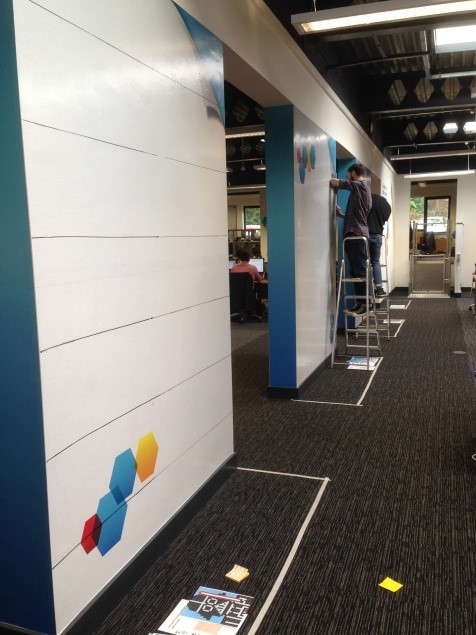 Luckily, the walls we wanted to use are covered
in whiteboard material, so we could draw lines straight onto them. A horizontal
line every 15 inches (or every five notes) helped us keep everything in check.
We generally started from top to bottom where possible, but
it soon emerged that each person had their own technique – some focusing on
details, others plodding away line by line. In the end we all finished within a
short time of each other and the results are pretty consistent so, regarding
technique, we can't offer much advice other than to take your time and consult
your design guide regularly.
Some difficulties we ran into were:
– One of our walls had been recently cleaned with
whiteboard cleaner and it made it harder to get the post-it notes to stick to
the wall. We simply wiped it down with a clean towel, which solved the problem.
– We made an error with some of the designs which
had to be altered on the fly. Luckily, the amount of 'sky' meant we had room to
remove a few layers.
– One of the team was a bit scared of step
ladders. He faced his fear!
Stage Four: Admire!
In the end it took a team of four people about five hours to
complete the murals, and the designs and planning took about an hour. We used 3,597
post-it notes in total – if we laid all the notes end-on-end it would stretch
899 feet!
Check out our
slideshow of more photos from the project:
Have you ever used post-it notes to create anything? Let us know @Viking_Chat – we'd love to see what you've been up to!