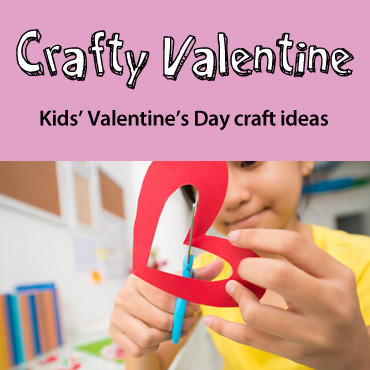 Keep the little ones occupied this February 14th with our kids' Valentine's Day craft ideas. Read on for our top suggestions…
Heart envelope valentine
This envelope folds out into a heart, which features their secret Valentine's message.
Draw a fat heart shape approximately 20cm wide and 20cm tall onto decorative paper – red glitter paper is perfect. For a neat finish, create and print a heart template to trace around.
Carefully cut out the heart shape, and write your Valentine's message on the plain side.
Fold the two sides in so they touch the middle.
Fold the top down past the halfway point.
Fold the point upwards to create your envelope flap, and secure with a sticker.
Write/stick your valentine's name on the front to finish!
Tissue-paper flowers
These pretty tissue-paper flowers look great in colourful bunches.
Take ten sheets of tissue paper squares in the same/complementary colours.
Concertina the stack of tissue paper, making around ten folds.
Wrap the end of a green pipe cleaner around the centre of the concertina so it stays firmly in place.
Round off the two ends of the concertina with scissors.
Carefully open out each tissue paper layer and arrange them into a flower shape.
If desired, twist and shape a smaller green pipe cleaner onto the stem to create a leaf.
Love heart paper chain
Perfect for hanging in the classroom, heart paper chains are fast, easy and fun to make.
Cut 30cm x 3cm strips from the coloured paper of your choice – half red and half pink works well! The more strips you have, the longer your paper chain.
Fold a strip in half then curl the two ends inwards to create a heart shape. Secure the two ends with a stapler, sticky tape or glue. Glu Dots are easy to use and give a neat result.
Fold your next strip in half, and loop through the previous heart you made before curling and gluing. Remember to alternate colours if desired.
Repeat step 3 until your paper chain is the desired length.
Love bugs
These cute pom-pom monsters are fun to play with or give to your valentine.
Create your love bug's pom-pom body in the colour of your choice:

a/ Use a compass to draw a circle with a three-inch diameter onto a thin piece of cardboard. Draw a one-inch circle in the centre of each.
b/ Carefully cut out to create two donut shapes, and stack together.
c/ Thread red or pink wool onto a small knitting needle and start winding the wool around your donut. Keep going until there's no hole in the middle, then snip your wool.
d/ Cut in-between the two cardboard discs, so you split the wool in half.
e/ Wrap a piece of wool in-between your cardboard discs, then knot so the centre is secured. Trim the wool.
f/ Cut the cardboard discs away and fluff up your pom-pom, trimming where necessary.

Cut a heart shape from coloured card to create love-bug feet. Glue your pom-pom on top.
Stick googly eyes on your pom-pom.
Create antennae by cutting and bending chenille stems into shape, and glue in place.