You've seen the perfect job advertised and want to give yourself the best chance of scoring an interview. The application form is your first opportunity to impress, so how do you present the best version of yourself to your prospective employer?
In conjunction with our 'Life Skills' series, we've compiled some hints and tips for putting together a winning application, working with the job-search gurus at Reed to give you the best possible advice.
Your CV
This is one of the first things a prospective employer will see, so you have to make it perfect. Present yourself in the best possible light, and they will be more likely to invite you for an interview as a result.
Your CV should be concise, yet cover all of the essential information:
Your personal details (name, full address, contact phone number, email address)
Your employment history (where you worked, how long for, and your job role)
Responsibilities and skills
Qualifications
If you can drive and have your own car, be sure to include this on your CV. Some jobs may require you to drive on occasion, even if this isn't specified in the job spec, and therefore recruiters may look favourably upon this.
Make your CV neat and presentable – leaving Comic Sans at the door – and proofread it thoroughly. A stray apostrophe may not seem like a big deal but it can undermine your claims of attention to detail, perfectionism, and communication abilities.
Catherine Maskell, head of marketing at Reed, says:
"The first step in landing that dream job is to make sure your CV fits the bill. Remember to tailor it for the role as employers can tell when they have been sent a CV that has been used for multiple applications.
"Don't forget to also include a covering letter which highlights how you meet the skills required, what experience you have, and how it will benefit you in the role. It also helps to include a little about why you would like to work for that particular company to demonstrate you have done your research."
If you want your CV to really stand out, an interesting and creative design could be ideal. Templates are a great starting point if you're not 100% confident, and there are plenty of services online that can help you – including Reed's templates for a range of job levels.
Extra-curricular activities
These don't stop just because you've left school!
Landing a perfect job can require a bit of elbow grease outside of the working environment, so don't be afraid to try something new if it will increase your employability.
Catherine Maskell recommends showcasing your skills however you can:
"Whether this is simply setting up a blog to build on your writing and communications skills or working at a local shop gaining customer service skills, these small things can really make a difference. Of course, if you can gain experience in the industry you work in too, that is an added bonus."
The tasks that will be beneficial for you in your job hunt will depend on your sector. If the industry you are seeking a job in requires a lot of interpersonal communication, for example, try volunteering in a charity shop where you will encounter a range of customers on a daily basis.
However you can display your work-based talents, this will serve you very well when it comes to sending off applications.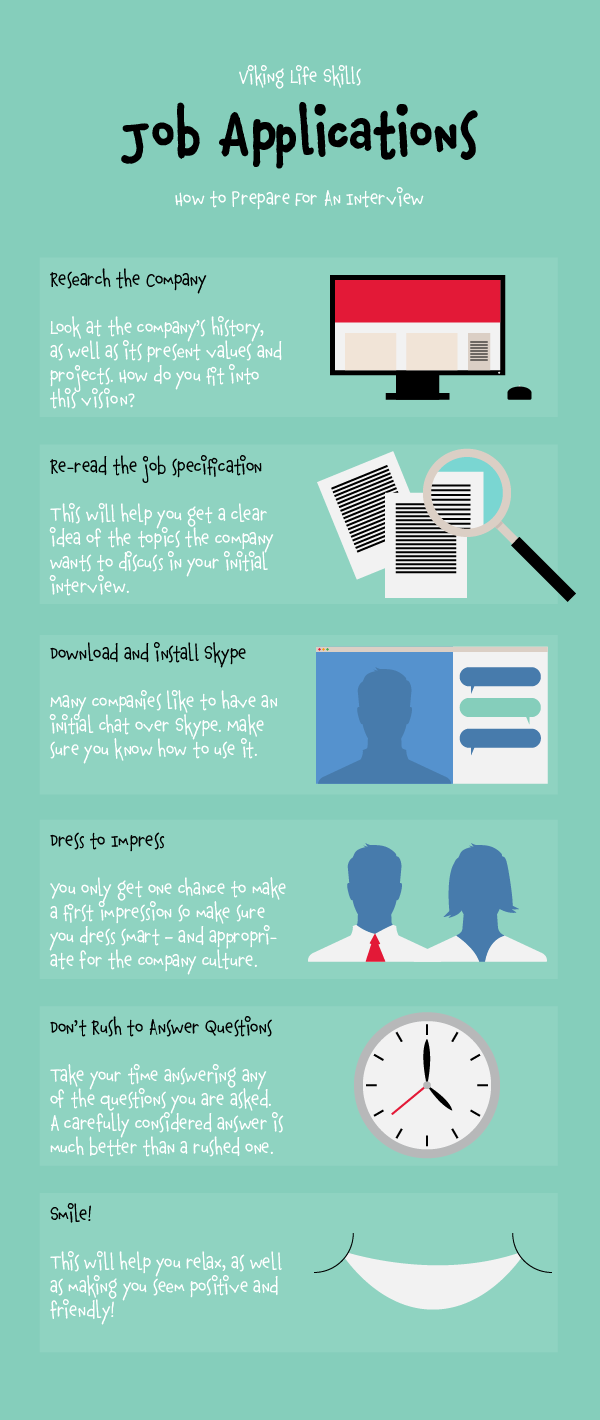 Before an interview
You've done it – you've landed an interview! So, what now?
Well, Catherine Maskell's first step is a bit of digging:
"Make sure you read up on the company you are interviewing with beforehand as you will be expected to have at least basic knowledge of how they operate. If you've done your research, you should also have a good idea about the company culture and know how to dress accordingly."
Where researching is concerned, Reed suggests taking a broad approach, looking at the company's history, as well as its present values and projects. Its website is an excellent place to start – see what kind of brand image it is portraying, and which campaigns or projects it is publicising.
In addition, look up the business's social media pages, as this can tell you a lot about the day-to-day and social aspects of the company, as well as the kind of work-life balance it encourages.
Utilise Twitter to get an insight into the company's wider horizons. Which accounts does it follow? Who does it retweet and engage with? This can help you figure out which section of an industry it occupies, and what messages or attitudes it likes to promote.
Preparation is key, so read over the job specifications again to see what skills they require from you, and what examples you can give to illustrate your proficiency.
Many companies nowadays opt for Skype interviews, especially if you are relocating and are therefore unable to attend face-to-face. If you find the prospect a bit daunting and need some more specific advice, we've got hints and tips to help you feel ready.
Interviews – when you're there
Making a perfect first impression is vital, and what you wear can be a big factor in this. Take a look at Reed's advice about how to dress for success, whatever level or industry you're interviewing for.
Ironed, clean, and respectable clothing is key, and you should arrive early and prepared.
When you're actually being interviewed, take your time over every question rather than feeling like you have to rush an answer. Consider your wording carefully, and if you need clarification, ask for it: it's far better to do this than to provide an answer to a question you haven't actually understood.
Finally, Catherine has one last tip for success:
"Remember to smile! Interviews don't have to be nerve-wracking. First impressions count in an interview and smiling will help you to relax as well."
Whether you're finding your first job or looking for a change, these tips can help you score the perfect role. Be honest about how your skills match the job spec, and prepare your way to a confident and compelling interview.
Need help keeping on top of a busy application or interview schedule? Invest in a good diary or organiser to ensure you get everything done on time.
Do you have any tips for job applications that you want to share? Get in touch on Facebook and Twitter!