Between algebra, coordinates, and complicated equations, one pretty essential thing that was always forgotten in maths lessons is taxes.
You leave school able to plot a graph like an absolute pro, but that percentage of your wage that disappears every month? That remains a total mystery. Don't worry – we're here to clarify everything you need to know as part of our 'Life Skills' blog series.
Working with the experts at HMRC, we've put together a thorough explanation of taxes, how they work, and what exactly they pay for.
What are taxes?
Taxes are the contribution you pay to a number of services when you earn over a certain amount of money. A percentage of your wage is taken by HMRC (Her Majesty's Revenue and Customs) which is then distributed between various avenues, including:
the NHS
the armed forces
building schools and colleges
your state pension
paying teachers' salaries
the police
and public benefits
There is a total of 39 different taxes that you pay, most of which are paid in combination, rather than individually.
When do I start paying taxes?
You begin paying tax on your earnings once your income exceeds your Personal Allowance: the amount of money you can earn that is exempt from tax.
For the majority of people, their Personal Allowance is £11,000. However, claiming certain benefits may affect the size of your Personal Allowance, and it will be smaller if you earn more than £100,000.
How much will I pay?
The amount of your wage that is taken as tax will depend on how much you earn. Up to £11,000 is tax-free, but above this you will pay a set percentage.
Between £11,001 and £43,000, you pay a 'basic rate', which is 20%.
A 'higher rate' of 40% is paid if you earn between £43,001 and £150,000.
Over £150,000, you pay an 'additional rate' of 45%.
HMRC's tax calculator can help you estimate how much tax you should pay based on your tax code and salary.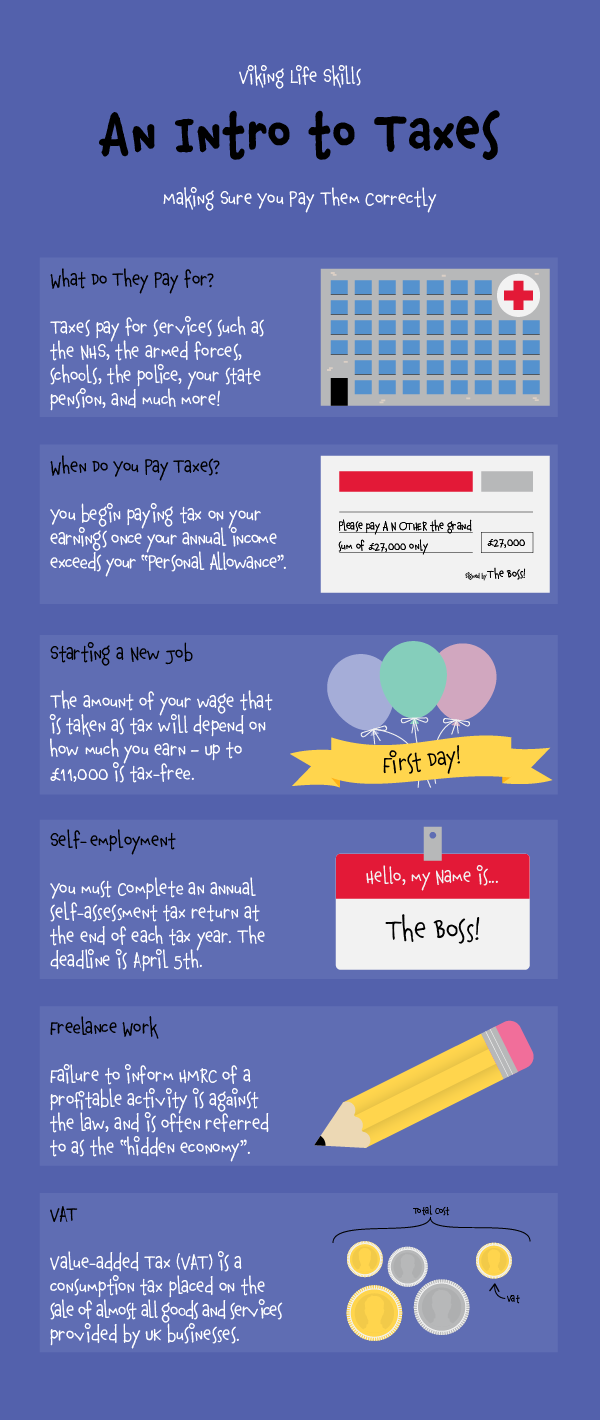 What is National Insurance?
Those who were born and reside in
the UK receive notification of their National Insurance number before their 16th
birthday. This number is unique to them, and will be used throughout their life
by HMRC, the Department for Work and Pensions, and the Electoral Registration
Offices amongst others.
Every taxpayer earning over £155
per week (or, for those who are self-employed, a profit of over £5,965 per
year) pays a National Insurance tax. This is to cover a variety
of benefits, including a state pension, maternity allowance, and bereavement
benefits.
What happens when I start a new job?
When you start your first job, HMRC
sends you a tax code which indicates what your Personal Allowance is. Your
employer will use this to calculate how much you will pay, and when. If you pay
too much tax over the course of the tax year, your code will be used to make
adjustments and you could receive a tax rebate.
This is the case if you start a
permanent job in which you pay PAYE (pay as you earn) tax. Your employer will
have either an in-house or consultant accountant who organises the company
finances and communicates with HMRC on your behalf to organise your tax.
If you are on a temporary job
contract, then your tax will automatically be deducted, and upon receiving your
P45 at the end of your contract, you can contact HMRC to discuss whether or not
you are due any money back.
What if I am self-employed?
Self-employed workers are
responsible for organising their own taxes, whether that's doing everything
themselves or hiring an accountant and providing them with all relevant
information.
This is the case whether you
operate as a sole trader (running your business yourself) or within a
partnership, in which both parties are equally accountable for managing
finances.
There are three crucial stages when it comes
to self-employed finance:
Keep records – whether that's hard copies or electronic
versions – of all your income and expenditure. This includes all invoices and
receipts. You are legally required to store all information regarding your
finances for six years, and be able to provide this evidence when required by
HMRC.
Complete an annual self-assessment tax
return at the end of each tax year. The deadline is April 5th,
and you will incur a paid penalty if you are late submitting your documents.
Once you have notified HMRC of your
position as a self-employed taxpayer, you will be provided with all the support
necessary to ensure you pay your tax and NI in full and at the right time.
You can calculate an estimate of
how much you will pay in tax using HMRC's
ready reckoner. This will allow you to budget for your tax return every
April and reduce the surprise when you discover how much tax you owe.
Should I pay tax on my side-line project?
If you earn money from a service
you provide, then you ought to be paying the appropriate amount of tax. Failure
to inform HMRC of a profitable activity is against the law, and is often
referred to as the "hidden economy": money earned by workers that they do not
declare in order to avoid paying tax.
This is sometimes done
intentionally, but other times, it is simply because people are not aware that
the hobby they earn a bit of money for has become what HMRC would call a
'business'. If you are in doubt as to whether or not the money you earn should be
taxed, it is best to consult
HMRC to discuss your situation and get the opinion of an expert.
What is VAT?
Value-added Tax (VAT) is a
consumption tax placed on the sale of almost all goods and services provided by
UK businesses.
If your company's taxable turnover
will exceed £83,000 over a 12-month period, then you must register for VAT with HMRC. You can
choose to register if your turnover is less than this, but once it goes over
the threshold, you are legally required to inform HMRC.
Once you have registered, you have
to charge the appropriate amount of VAT on any goods or services you provide,
keeping constant records of all sales and purchases, and submit the relevant
return to HMRC.
When you predict your turnover to
exceed the threshold, you have a responsibility to register your business for
VAT within 30 days. Therefore, it is wise to get in the habit of checking your
turnover on a regular basis to assess how close you get to this figure.
The threshold is not a permanently
fixed sum – whilst it is currently
£83,000, this may change in future. As a business owner, you are
responsible for being aware of the current threshold, and exactly which items
are VAT exempt in order to comply with HMRC conditions.
Taxes will play a significant role
in your financial affairs throughout your life, so it's important to make sure
you are fully informed of what you have to pay and when.
Maintain records as efficiently as
possible so you can keep track of your taxable outgoings, and ensure all
earnings are being declared appropriately to relevant parties, whether that is
your employer's in-house accountant or a consultant you hire to manage your
start-up business's finances.
Keep all your payslips and tax statements in one place to
prevent losing anything important. One of our
folders or boxes can easily become your designated storage space for
all your relevant documents.
Have you
found this advice useful? Do you have any tips that you want to share? Get in
touch on Facebook and Twitter!