Holidays overseas offer beautiful beaches, exciting adventures, and a chance to experience a brand new culture. It's no surprise, then, that going away is something that many of us look forward to.
When you're a child going away with your family, you can simply enjoy being taken here, there, and everywhere, and not have to worry about organising anything. However, when you get a bit older and decide to go exploring with friends or your partner, you quickly realise quite how much planning goes into a holiday.
As part of our 'Life Skills' series, we decided to help you get ready for your first independent trip. We've collaborated with leading holiday supplier, icelolly.com, to give you plenty of advice that will get you ready for your big adventure.
Firstly, a few notes from us:
Whether you're travelling solo or with friends, staying safe is the #1 priority. Make photocopies of your passport in case yours is lost or stolen, and if possible print off an extra copy of your boarding pass if you're using online check-in.
Speaking of which, make sure you check in as early as possible. This can be anywhere between a month and 24 hours before the plane is scheduled to leave, so look out for email alerts. Check-in may be the only time you get to pick a seat, so getting your act together early will help you find the perfect spot on the plane – especially helpful if flying makes you a bit anxious!
Before you leave, research thoroughly how to get from the airport to your accommodation – be it taxi, train, metro, or bus. This will prevent a panic when you arrive and find the language harder to interpret than you initially expected.
Also keep to hand the number of the British Embassy in case of emergencies. Divide your money between your various bits of luggage in case one of your bags gets misplaced en route, and never leave your accommodation with all your cash – always leave some behind in case anything happens to your purse while you're out exploring.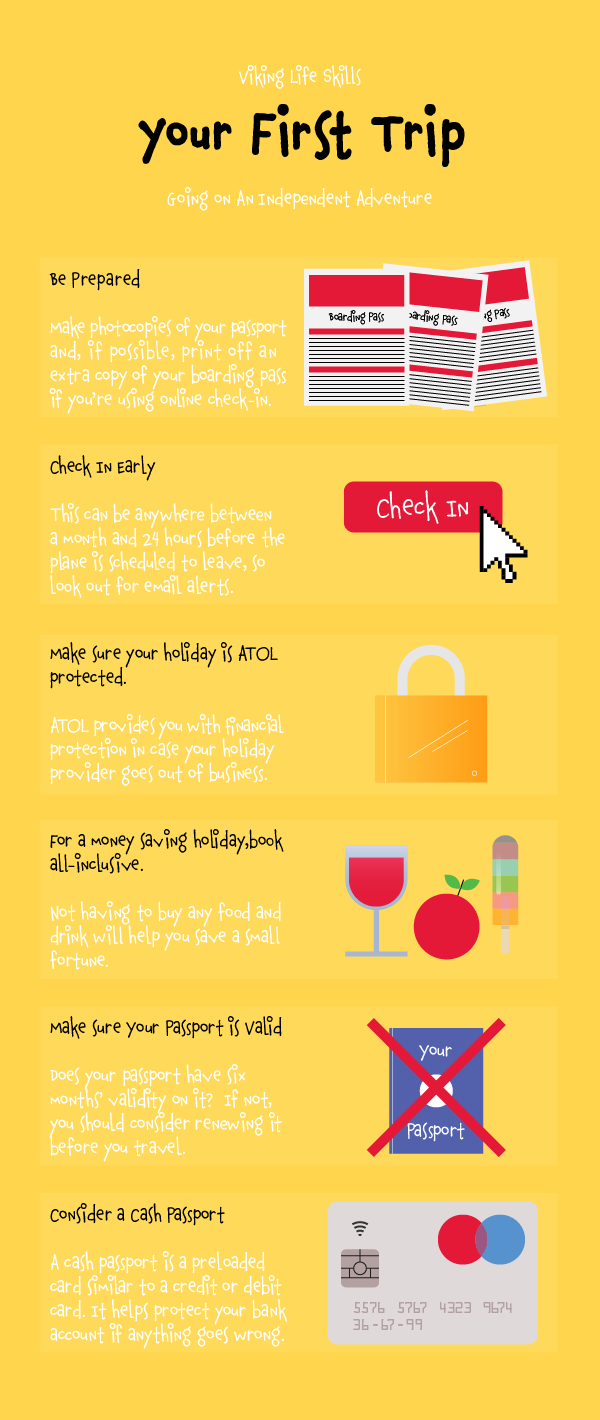 Some tips from the experts at icelolly.com:
1. Make sure your holiday is ATOL protected.
ATOL (Air Travel Organisers' Licensing) provides you with financial protection in case your holiday provider goes out of business, ensuring that you'll get a full refund. Protection under this body also entitles you to assistance if the company ceases trading during your holiday.
Make sure that any provider you book with has 'ATOL Protected' clearly stamped somewhere on their website, and this will give you – and your parents – peace of mind while you're away.
2. Buy the right travel insurance.
Travel insurance is pretty cheap and could save you from huge expenses if you lose your luggage or get ill while abroad. Many people think their European Health Insurance Card (EHIC) guarantees them free medical care, but in reality it only entitles you to the same treatment as a local, which won't necessarily be free.
High risk activities like skiing or quad biking might not be included in a basic insurance policy, so check the fine-print to make sure you're covered.
3. Book all-inclusive.
If you're not planning to stray too far from the hotel, booking all-inclusive is the easiest and cheapest option. You pay for all your food and drink upfront which limits extra spending once you get to your destination, and if you're in a group there's no need for bickering over splitting restaurant bills or supermarket receipts!
4. Get a Cash Passport.
A Cash Passport is a prepaid currency card: you load money onto it and make purchases or withdraw cash abroad (usually for free) whenever you like.
You can manage your balance online but the card isn't linked to your bank account, so you can't overspend and your bank balance is protected in the event of theft.
5. If in doubt, ask your rep.
One of the perks of booking a package holiday is that you'll have a rep in the resort whose job is to make sure that all their customers have a great time.
They have lots of local knowledge, can book all kinds of trips and activities for you, and know what to do in a crisis, so make use of them!
6. Don't forget the little details.
Get these simple things checked off your list before you head off on your adventure, and this will prevent any panics at the airport or hotel.
Does your passport have six months' validity on it?
Do you need any visas or vaccinations for your destination?
Are there any tourist taxes (at the hotel) or departure taxes (at the airport) that you'll be expected to pay?
Keep all of this advice in mind while you're getting ready for your holiday, and you can prevent any hitches getting in the way of a good time. These tips will ensure your safety, as well as giving Mum and Dad peace of mind when you're away, and let you stay focused on the most important thing: having fun.
Want to print off some of your favourite snaps once you get home? We've got speciality photo paper ready to give your memories a glossy, professional finish.
Like our tips? Got any of your own that you swear by? Let us know on Facebook or Twitter!