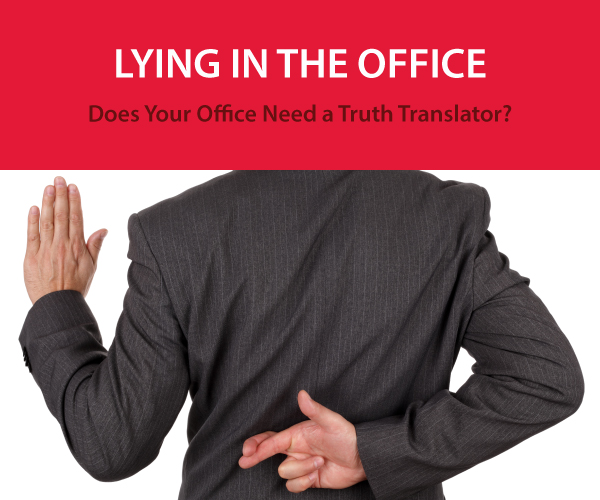 You've got a tight deadline, documents are scattered all over your desk, and a colleague has just asked if you have "a spare five minutes" to help them with something. Suddenly, you hear yourself making an excuse to get out of doing the work – one little white lie is no big deal after all…
Most of us have told a lie at some point in our working lives, but why do we feel the need to? We surveyed office workers to find out.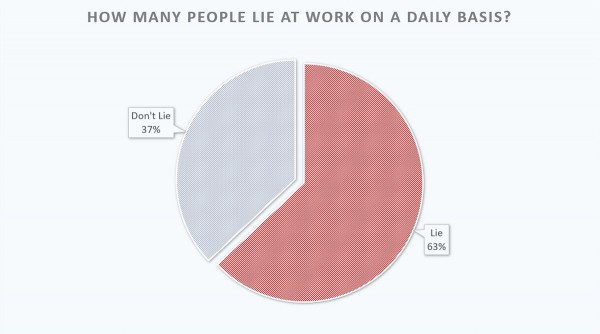 Of the 500 employees we surveyed, nearly half (42%) of employees didn't feel they could always be honest in their office, which led to 63% admitting they lie at least once a day at work. 20% of people said they lie up to three times a day to their colleagues.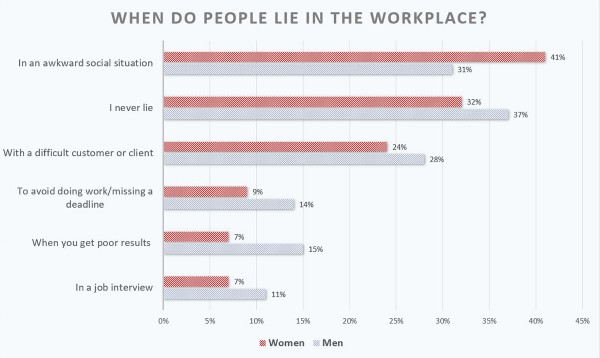 We also wanted to find out when people were most likely to lie. Awkward social situations were the most common cause and the only scenario in which women were more likely to lie than men. Interestingly, only 35% of men said they were uncomfortable expressing their true thoughts while at work, compared to 52% of women. This suggests that women may be more likely to skirt around an issue or deflect a question, opposed to men who are more likely to lie.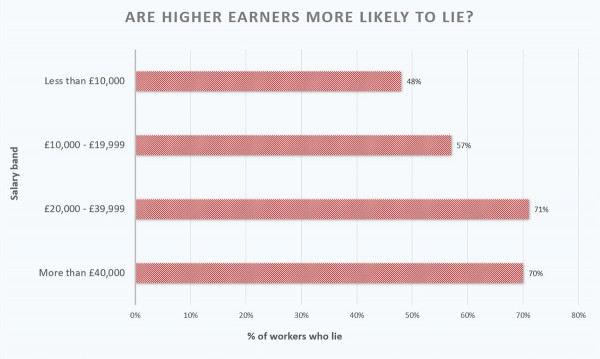 The income of participants also had a big correlation with how comfortable people feel being honest at work. The percentage of workers who lie jumped from 57% to 71% when moving up to the £20,000 bracket, and staying high at 70% for those earning over £40,000. Office workers who earn £40,000 or more are, unsurprisingly, the most likely to lie in situations with customers or clients. Senior employees with wages in this bracket are probably more likely to be involved in conflicting situations with either unhappy clients or complaining customers, which may explain why this is the case. Those earning less than £10,000 most frequently lied in social situations, which is perhaps born out of entry-level employees looking to make a good impression in a new workplace. It can be difficult to fully understand what others mean in the office, particularly if they're trying to sound positive about a difficult situation. White lies and jargon are common between departments, with colleagues explaining "big picture ideas" and "playing devil's advocate". We decided to imagine what it might be like having someone to 'translate' these phrases, who we dubbed the 'Office Truth Translator'.
With workplace pressure a major cause of stress in the UK, we should all take the time to think about our colleagues. We all want to work in a place where we feel comfortable and (wherever possible) can avoid the need for telling little white lies to get through the day Rather than relying on hearsay and desk-side sticky notes, solid communication throughout a business will help employees work better together and mean we won't have the added expense of hiring an office truth translator…
Have you ever fibbed at work? Which phrases do you hate hearing in the office? Let us know @Viking_Chat – we'd love to hear what you've been up to!