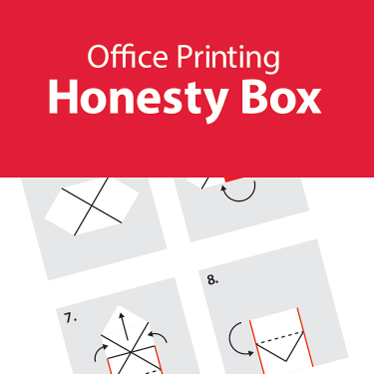 Printing Personal
Items At Work? Set Up an Honesty Box!
We all do it. Whether its concert tickets or holiday snaps, every
now and then we print off something we probably shouldn't whilst at work. We
asked 1,500 office workers what they're secretly printing off and how often
they're doing it.
Job Hunting
Surprisingly, 20% of people are sneakily using their office
printers to print job-hunting material. Whilst some opt to print their application
for a new job on their current company's dime, 25% have printed their CV and
13% have printed tasks for an upcoming interview!
Jet Setting
Over a quarter also admitted to printing holiday or weekend
plans on a work printer. 27% of people print boarding passes for flights,
whilst 21% opt for getting their train tickets at work. 15% even dare to print their
holiday photos at work once they get back!
Many people stated that they'll print "whatever they can get
away with" as well as "anything personal without asking first", which goes to show
we've pretty cavalier about what we print while at work.
Use an Honesty Box!
Viking wants to see the end of 'secret printing'. That's why
we've created the perfect opportunity to make a positive change in your office.
Get your colleagues in the fund-raising spirit by downloading our Honesty Box!
Make sure to print the document onto A3 paper and carefully follow
our instructions to construct your very own Honesty Box.
Place this next to your office printer and simply pop in a
donation each time you print something personal – you can set up a regular charge
per the number of pages printer, or a free donation system.
You'll never feel guilty grabbing your train tickets while
at work again, just make a donation in your Honesty Box each time you do and you'll
seen have the whole office raising a serious amount of cash!