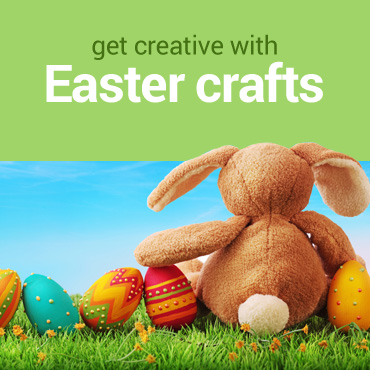 Almond wreaths
Who says a wreath is just for Christmas? Follow the
step-by-step guide below and put an Easter spin on this classic decoration:
1.
Purchase a Styrofoam wreath.
2.
Buy a packet of multi-coloured almonds and stick
them to the wreath using hot glue. Start from the inside and work your way
around, covering the entire wreath and overlapping a few. Always supervise
children when using hot glue.
3.
Allow to dry before hanging your new-look wreath
up.
Easter bunny photo frame
If you have a child who loves Easter, then they are sure to
enjoy making this exciting photo frame. The clever design will see them transformed
into a bunny rabbit.
1.
Cut out a square from some white felt. Fold the
square in half and etch out a pair of ear shapes.
2.
Repeat step one but this time using pink felt
and cutting a smaller square to create the inner parts of the ears.
3.
Glue the pink inner parts to the white ears and
stick the entire arrangement to the back of a photo frame so that they pop up
out of the top.
4.
Attach three short, black pipe cleaners to each
side of the photo frame to act as whiskers.
5.
Pop a photo of your child into the frame and the
decoration is complete.
Egg shell art
Is your child a budding artist? Get creative with the shells
of hard boiled eggs.
1.
Decorate some hard boiled eggs in a colour dye
and crack them open.
2.
Collect all of the shell pieces that you can,
give them time to dry then pop them into a plastic bag.
3.
Crush the shell pieces while they are in the bag
and put to one side.
4.
Grab a piece of paper – it's totally up to you
which colour – and draw an Easter character on it.
5.
Trace over the outline with glue and sprinkle
over the shell pieces. Once the glue has had time to dry, you will have
Easter-themed art to display in your home.
Buy your art & craft supplies online now to get started with all of these
tasks, or share how you are getting creative with crafts this Easter on our social
media pages.