In our last instalment of Tomorrow's Leaders, we caught up with Christian Lane from Smarter. In this month's blog, we are talking to Charles Cridland about his business start-up success with YourParkingSpace.co.uk. Charles set up the business from his bedroom and it has gone to have international success and recognition. We asked about his story so far, advice he has for new start ups and what's next for his company.
What's your career story in a nutshell?
My career has gone full circle. Back in 2006, after leaving university, I launched a very basic version of YourParkingSpace.co.uk, effectively a Gumtree for parking at the time. The website more or less ran itself for years, before re-launching YourParkingSpace in 2014 after my business partner Harrison Woods joined the company.
During the years in between I worked for 12 months in banking, 18 months for an affiliate marketing agency, before starting up on my own running affiliate websites. In 2014 I then decided to focus full-time on YourParkingSpace.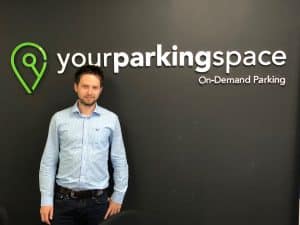 What has been your proudest career moment, so far?
What has been your proudest career moment, so far?
Securing £250,000 in seed investment for YourParkingSpace in 2014. It was a huge amount of money for what was an incredibly basic website at the time, and a very big moment for the business. It was the moment that we realised that we had a real opportunity to achieve our vision for the business.
Describe your workspace. Are you tidy or organised chaos?
My workspace follows a pattern of tidy before descending into organised chaos and then ultimately just chaos! At this point I then tidy up everything before the process repeats itself.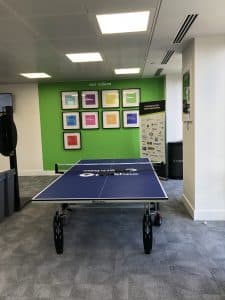 which stationary item could you not live without?
My notepad. I carry it to work, meetings, and at home it's rarely out of reach. All ideas and to-do lists are tracked in there.
Who is your business Idol and why?
James Dyson, founder of the Dyson vacuum company, simply because of his persistence. To keep his belief throughout all the early years, despite suffering failure after failure, is very impressive. I'm a big fan of Winston Churchill's quote – "Success is the ability to go from one failure to another with no loss of enthusiasm." James Dyson really does embody that quote.
What's the best thing Yourparkingspace.co.uk has allowed you to do?
The business has enabled me to meet people that I would otherwise never have crossed paths with. In many jobs the only meetings people have are with their co-workers or their boss. Through YourParkingSpace I've met a huge array of business leaders, government ministers, and up-and-coming tech entrepreneurs. It's a real source of inspiration meeting people that have achieved so much.
Which workplace habit can you not stand?
Blaming others. Progress can't be made if a blame culture exists. Mistakes happen all the time, it's normal, with most mistakes actually down to bad processes giving the opportunity for mistakes to occur. Managers and colleagues that blame each other when things go wrong is the one workplace trait I can't stand.
What advice would you give to people starting their own business?
Just get started. You can do all the research in the world, but ultimately the best way to test your idea is to simply get started. With YourParkingSpace I asked a lot of people for their views on renting out driveways. The concept received a very mixed reception, and I could have subsequently easily over-thought things and got stuck in analysis paralysis. Just give it a go – as long as you can afford to lose what you put into the business then you really can't lose by giving it a go.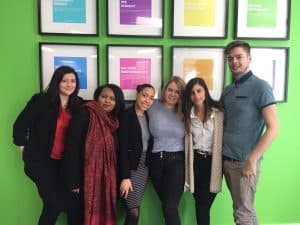 How do you switch off?
Watching football. I would also suggest having beers in the pub but the business is never far away as a topic of conversation!
What's next for Yourparkingspace.co.uk? Do you have any plans for the Future?
We're on course to generate £15million this year for our parking space providers. In the short-term, the goal is to continue growing the business month-on-month so that this figure is doubled next year.
For the wider vision, we've launched a B2B business, ParkMaven.com, which we believe has huge potential through providing technology solutions to other industry participants, such as car park operators and enforcement companies. The parking industry is notoriously slow to innovate, with the B2B business we believe we can help the industry embrace and thrive in the digital age.
If you would like to become part of our Tomorrow's Leaders series let us know on Twitter at @viking_chat.