Could you give us a bit of background about yourselves and Zeven?
Zeven
was set up in 2013 by myself and Hyrum (my brother) and we are a big on family. There's 7 brothers, so that's where Zeven
 came from.
We are a digital media company that create social media sharing set-ups to increase social media engagement at events, for a long list of brands such as Arcadia Group, Estee Lauder and Sky.
Our range of products include social media photo booths, hashtag printing stations, GIF booths, video booths, Dubsmash booths and shoe booths. We have also started to do more bespoke booths for clients such as Football Manager, Kiehl's and Urban Decay.
What was it like pitching on Dragon's Den? How nerve-racking was the experience?
Horrible! It was like the worst
rollercoaster
you could imagine, very daunting but it was well worth it!
What would you say are the top three skills needed to be a successful entrepreneur?
Enthusiasm
Committed to the cause/dedication
Need guts – need to be willing and able to make decisions when you don't really know the answer
What is an average working day like for you?
I don't think we have had an average day yet! I tend to do more work at night when I concentrate better. I make sure everyone is doing their jobs, overseeing operations, motivational meetings and make sure we're not spending too much money!
We now have Rocco our office dog, who is a fun addition to the team.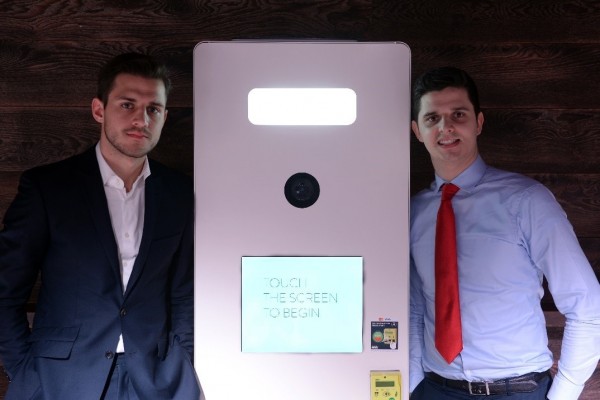 How do you plan your day?
How do you knuckle down when working?
I take regular breaks because I don't concentrate very well.
How do you switch off?
I don't! It's hard for me to switch off as I'm thinking of work all the time, it could be
3am
and I will be wide awake thinking about our next adventure/growth.
What is the most important piece of advice you'd offer current students with big ideas like yours?
Don't be afraid of the word "no".
How would you describe being an entrepreneur?
It's an emotional rollercoaster, but very rewarding when things pay off.
What's next for Zeven?
We are opening new London offices in the New Year which we are excited about, including Deborah! We will hopefully continue to reach our goals such as doubling our profits! I've been setting goals since I was a little boy so I think they are important to stick to.