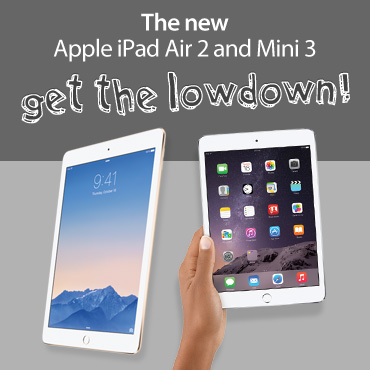 Apple recently released two new additions to its tablet lineup: the Apple iPad Air 2 and the Apple iPad Mini 3. These top-of-the-range devices are sure to be big hits among tech-lovers, and will be hugely popular Christmas gifts. See our guide below for everything you need to know.
Size and weight
The main difference between the two new Apple tablets is the size. While the iPad Air 2 has a 9.7-inch display and a 240 x 169.5 x 6.1mm body, the iPad Mini 3 has a 7.9-inch screen and measures in at 200 x 134.7 x 7.5mm. They weigh 437g and 331g respectively.
That means the iPad Mini 3 may be better suited to on-the-move use, while the iPad Air 2 delivers a superior media viewing experience.
Performance
The iPad Air 2 is Apple's most powerful tablet. It comes with an A8X chip and M8 motion coprocessor, which ensure slick and speedy performance whether you're playing a game or watching a movie. This is great if you use power-hungry apps like Photoshop or do a lot of multitasking.
The A8X and M8 are upgrades from the iPad Air's A7 chip and M7 motion coprocessor, which also appear in the iPad Mini 2 and now the iPad Mini 3. However, the smaller size of the iPad Mini 3 screen means you won't see a big compromise in performance.
Cameras
Both new iPads have a 1.2-megapixel FaceTime camera. However, the iPad Air 2 boasts an 8-megapixel iSight camera that takes higher-resolution images than the Mini 3's 5-megapixel snapper.
The larger device also has a burst mode that captures ten photographs per second, which is great for photographing sports and animals, and a slo-mo feature that films in 720p at 120 frames per second.
New features
Unlike their predecessors, the new iPads boast Touch ID. This means you can scan your fingerprint to unlock your device, sign into apps, authorise purchases and more, improving security and convenience.
Variants and prices
The iPad Air 2 and iPad Mini 3 come with 16GB, 64GB or 128GB of on-board storage; in Space Grey, Gold or Silver colours; and with Wi-Fi or Wi-Fi and cellular connectivity. Find the Viking IE price for each model in the table below:
Will you be buying a new iPad Air 2 or Mini 3? Are you hoping Santa will leave one under the tree? Leave your comments below!