Here at Viking, we always try to get creative with our office décor. Whether we're building office forts, or paying homage to our favourite films, there's always something going on. Our latest project to inspire staff was our biggest yet – the creation of a whopping 13-metre-long dragon made entirely of paper!
This mountain of a project was made even more of a mammoth task by the need for stealth. Everything about the project was kept under wraps to give staff a Monday morning surprise. To accomplish the ambitious project, we worked closely with the outstanding artist, Andy Singleton, to create the life-size paper sculpture. Find out how we pulled it off below.
Inspiration
When it comes to our office décor projects, we're used to thinking big. But this time we really wanted to out-do ourselves. Straight away we knew we had to get 3D and on a serious scale. All of our creations draw inspiration from our range of products, and these two ideas together resulted in our paper sculpture concept.
Picking a theme was the easy part. We knew we needed something massive, something striking. And with dragons being a common feature in many of our favourite films and TV shows this year, the mythical creatures were already at the forefront of our minds.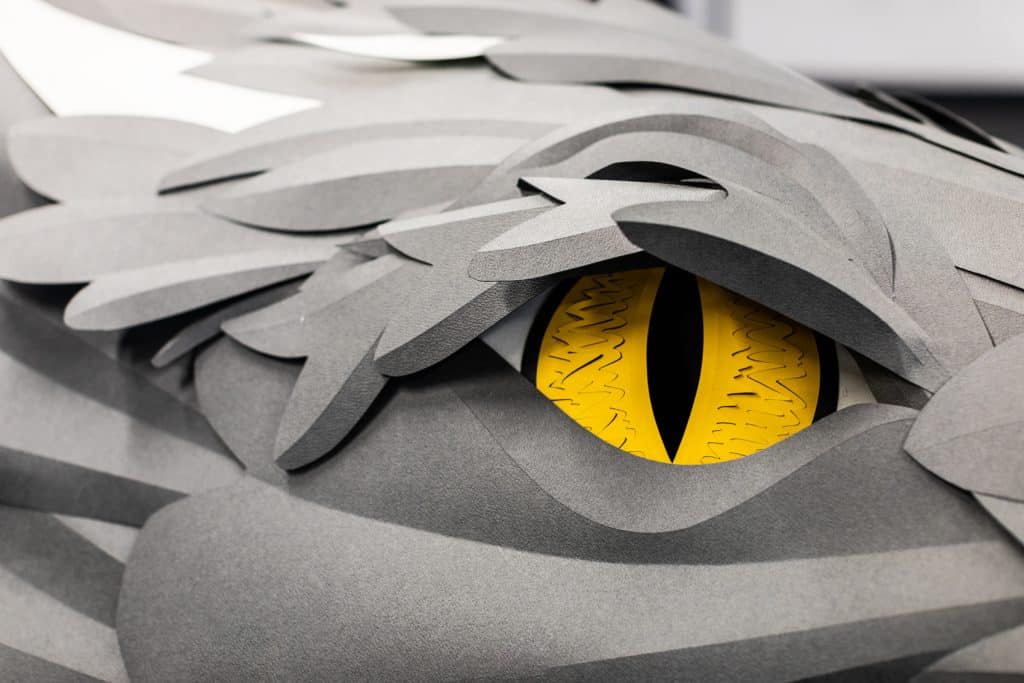 Andy played a central role in shaping our Dragon's very specific look. He said "I wanted the dragon to be an expression of my approach and style of work, so I did not look at any other reference images while making it, apart from my drawings. I wanted parts of the dragon's armour to look like faceted minerals, but also to have softer elements almost like fur on the underside. The colour choices just felt right when I was selecting the specialist paper".
Preparation
The first step in our journey to creating this beast was to set out a brief. This laid out the basics of what we wanted – a life-size, freestanding, paper dragon sculpture.
Andy took this brief and jumped straight into the design. He started with loose sketches to work out the dragon's composition and progressed these into more detailed images of individual elements. A big part of this was planning how to create forms, shapes, and textures for the dragon.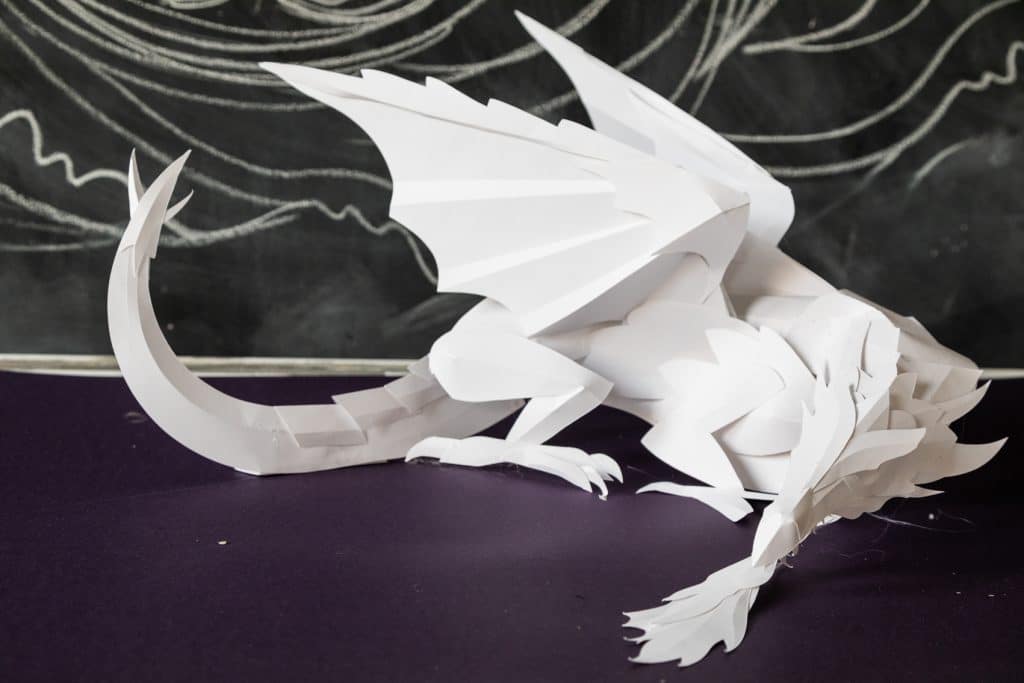 Once everything was sketched, a small-scale sculpture was produced. This allowed us to see if the design would work and where adjustments needed to be made. Then it was time for the real thing.
Building the Sculpture
Creating the full-size paper dragon took ten full days of work. Each element had to be carefully crafted and created. The texture of the dragon's hide is the result of scoring on paper, giving the appearance of ridges and spikes.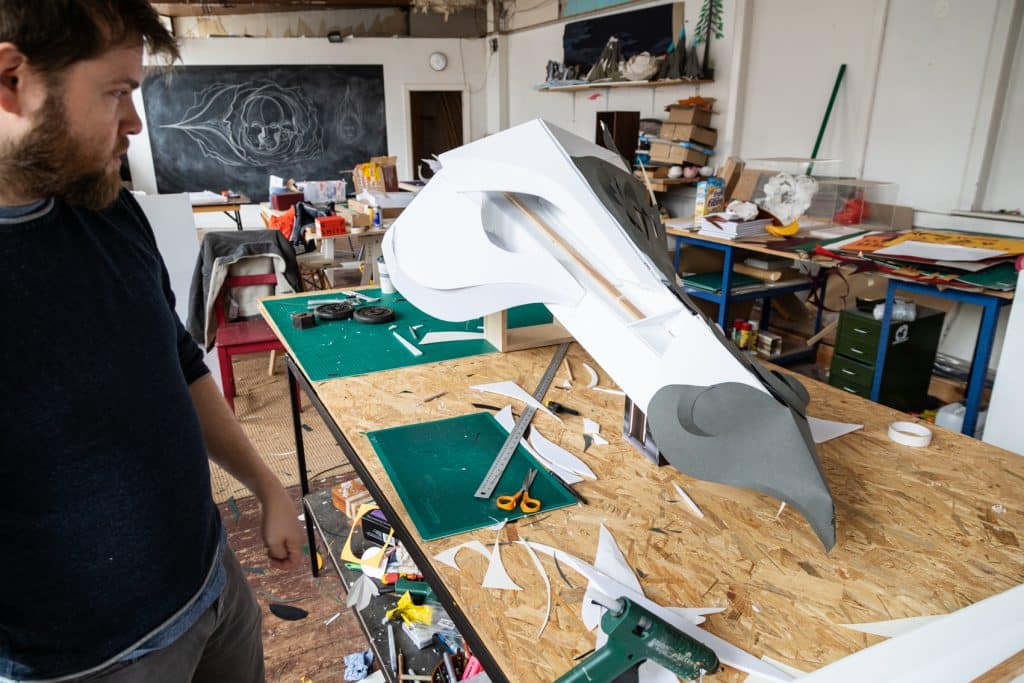 The first section to be created was the head, which let Andy perfect his technique of folding and layering paper.
At this point, it became clear our dragon needed a bit of support, so Andy whipped up a small wooden frame that would help prop up heavier parts of the structure from underneath. The rest of the dragon was built back from the head in different sections. Once it was complete, the dragon was dismantled into these separate sections at Andy's workshop, ready for transportation to the office.
Installing the Dragon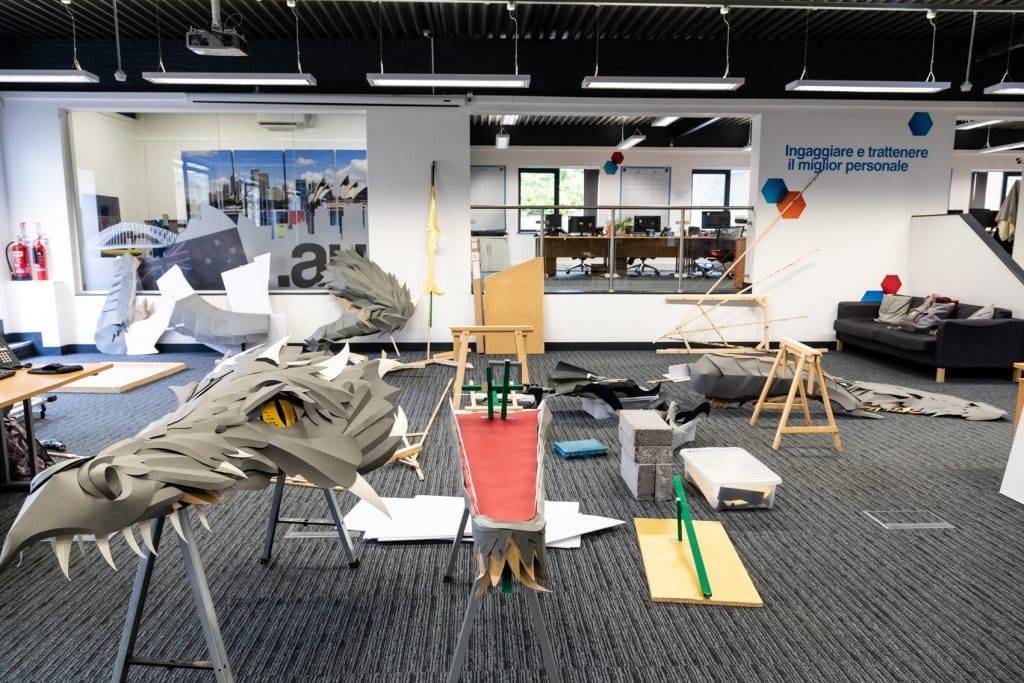 After our dragon had been carefully created. It was transported, in secret, to the office. This happened at the weekend when we knew desks would be empty. The full installation took ten hours, and the process was filmed by a few select employees who were in on the secret. Our new office pet was left to bide his time until staff returned on Monday morning.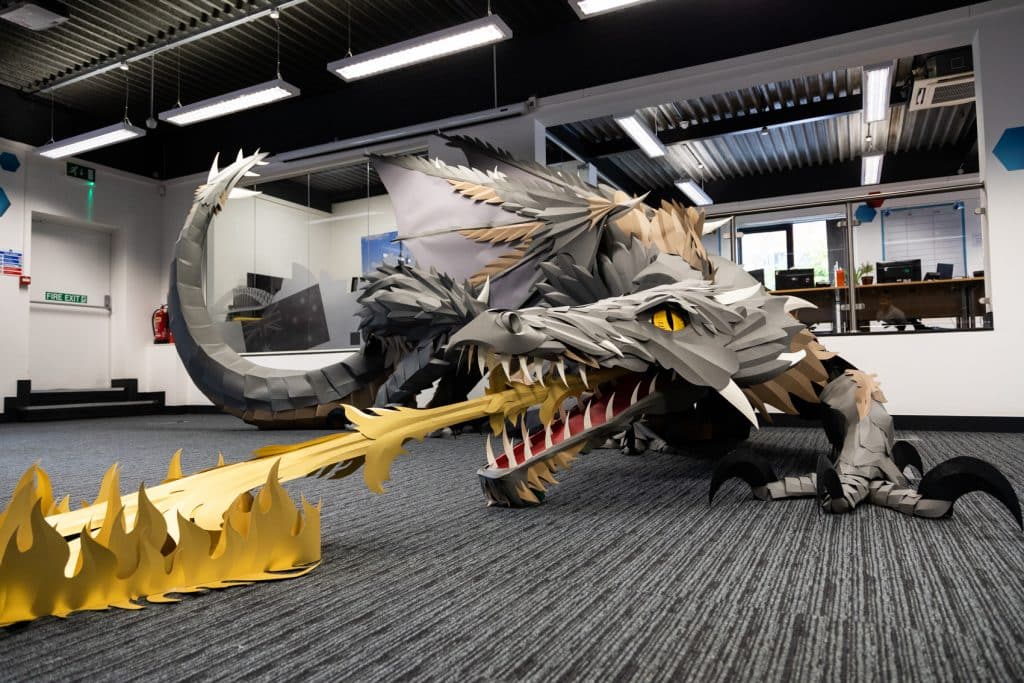 At the end of the project, a total of 110 hours had been spent on designing, building and installing the sculpture. It involved the equivalent of 1,200 A4 pieces of paper to make, and its final dimensions were 12.95 metres long, 2.8 metres wide and a wingspan of 6 metres.
Reception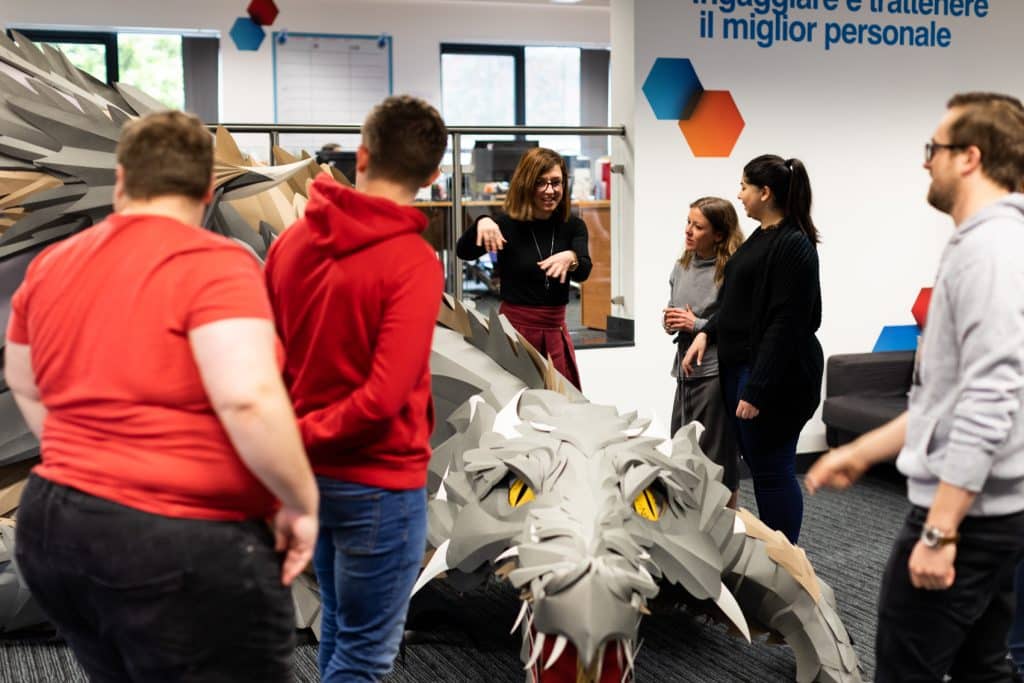 As the staff started to pile in for 9 am, Monday morning, reactions came thick and fast. There were a lot of shocked faces, more than a few laughs and a lot of questions! Our new addition got loads of the team talking, sparking new interactions, and provided a discussion point for the day's tea rounds. Getting staff involved with a quirky and creative project is a great way of cementing working relationships and keeping creative juices flowing!
We're now searching for a name for our dragon! To join in the conversation head over to our Twitter @Viking_Chat, or search #MakerofDragons on social media.